Welcome to the Friday Five! Every Friday we share our top five articles, stories, and quotes for you to read and share with your friends and church families. 
We would be very grateful if you could make a donation of $100, $50, $25, or $10 today towards our work producing these Friday Fives and fighting for your values on the public square!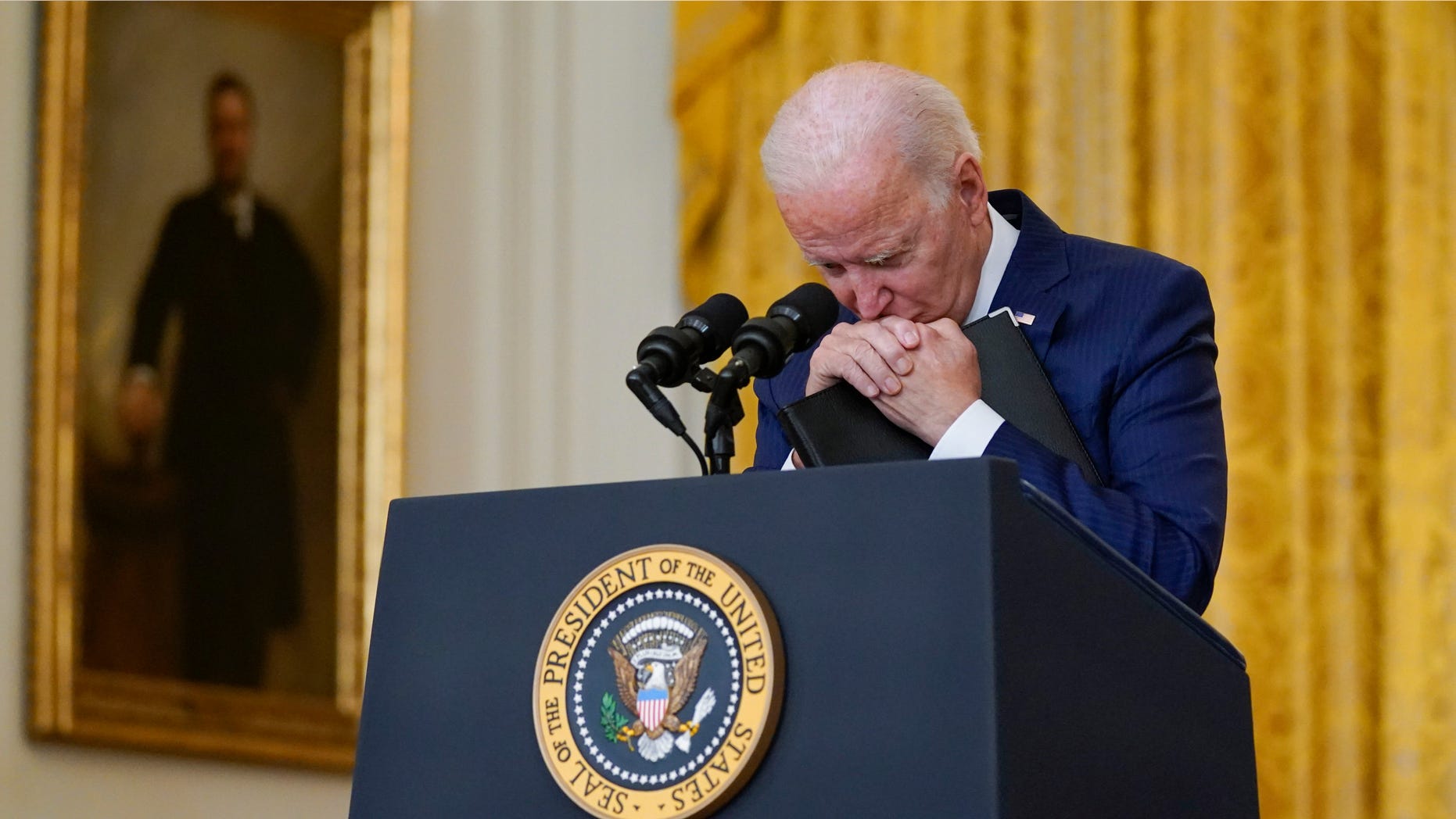 1. FOX NEWS: Photo of Biden from Afghanistan news conference goes viral: 'A defining image'
"On Thursday, Biden held another press briefing to discuss the recent bombings at Kabul's airport in Afghanistan that resulted in the death of 13 U.S. service members and wounding more than a dozen others.

After condemning ISIS-K for the attack, Biden took questions from the press, including Fox News reporter Peter Doocy.

Doocy asked Biden if he accepts responsibility for the way things have unfolded in Afghanistan in the last two weeks.

Biden responded 'I bear responsibility for fundamentally all that's happened of late.'"

"This led to a tense exchange between the two where Biden proceeded to tilt his head down as Doocy continued to ask questions.

The image of Biden's head down was quickly shared across Twitter with several people calling it a "defining" image of the Biden administration."
As if it couldn't get any worse, Tucker Carlson reports "To make the Taliban's job easier, Biden gave them a list of Americans in Afghanistan."
2. NC VALUES: Meet Reaghan, our newest team member
We're excited to announce that Reaghan Boerman has just joined our organization as the Director of Legal and Strategic Initiatives. Reaghan will serve as staff attorney for the organization, spearhead strategic initiatives that will advance the mission and vision, and engage in development.

Given the evolving political climate, we're convinced that the battle to defend our values is moving into the legal arena. Government schools have encroached upon the sovereignty parents have over the education and discipleship of their own children. The decay of public education, and the politicization of the publicly-funded teaching institution require legal action, as well as political strategy. With the passage of SOGI laws across our State, religious freedom can only be protected by taking legal action. And now that the Supreme Court is poised to reconsider whether abortion should be legal, we are engaging more and more legislation and legal strategies in support of life. We believe Reaghan is uniquely qualified to help us address our evolving legal and political climate in North Carolina.

Last year, we were blessed to have Reaghan intern for us, and during that period we really got to see how remarkable she is.
3. CAROLINA JOURNAL: F.A.C.T.S. task force releases first report documenting bias, indoctrination in public schools
"A task force assembled by Lt. Gov. Mark Robinson designed to give a voice to parents and students in identifying political bias in public school classrooms released its first report on Tuesday.
In March, Robinson established a task force on political indoctrination in public school classrooms known as F.A.C.T.S., standing for Fairness and Accountability in the Classroom for Teachers and Students. The task force's first report documented over 500 submissions from parents across the state.
'Our task force set about to answer one question: Is there indoctrination happening in our public schools. After doing this report and after doing this task force, the overwhelming answer is yes, it is,' said Robinson during a press conference on August 24."
4. READ THE REPORT: The Office of Lieutenant Governor Mark Robinson's "Indoctrination in North Carolina Public Education"
"Throughout serving as volunteers on the Lieutenant Governor's Task Force, the Office of the Lieutenant Governor collected over 500 submissions. These submissions were a detailed report of concerns from parents, students, teachers, and administrators. As a task force, we reviewed individual submissions with the staff of the Lieutenant Governor and gave our thoughts on what we saw within those submissions. From that, the office began to compile a report this report. This report provides insight into the vast number of issues facing public education."
5. WCNC: Critical race theory prohibition measure advances in NC Senate
"A North Carolina Senate committee on Tuesday advanced legislation that would prohibit teachers from "promoting" certain concepts related to race and sex in classrooms.

Although House Bill 324 focuses on the concept of "critical race theory," studying history or current times through the lens of how race may play a role, much of the hour-long meeting of the Senate Education committee focused on whether "indoctrination" was actually happening in schools."
Also check out this article from the Daily Caller on the plan of teachers to meet in over 115 cities across the US to protest anti-critical race theory legislation. 
WEEKLY PRAYER: AFGHANISTAN
LORD, we come to you with hands clasped in grave petition. In tears. With groans. For our hearts are hurting, oh LORD! For we see on the horizon the tragedy awaiting the people of Afghanistan.

Few can understand their plight. Especially us, in our air conditioned and protected homes. How foreign it is to us to imagine what it is like to have one's life turned upside down, and to have tyranny take one's liberty. What a mess made by the White House's broken leadership. Forgive our nation and its leaders in the responsibilities we share.

Our words can do the stranded people of Afghanistan no justice. So we appeal to you, the Word. Protect your people, O' LORD. Give to supernatural solace.

On our part, may our hearts sit heavy with the reality of their plight:

children being taken from their mothers;
wives being robbed of their beloved husbands;
friends of our nation's warriors hunted like rats;
women flogged in the streets on the basis of their sex;
girls now deprived of a lifetime of opportunity and God-given liberty; and
Christians threatened of livelihood and harassed with promises they will see not the rise of the sun. 

LORD, the hands that write this prayer grow heavy with solemnity. Yet heavy as they are with the weights of this debacle, the Spirit provides them strength to be lifted to You in worship. Ever are you worthy; and inestimable your power.

For in spite of the scheming and violence of man, when our Afghan brothers and sisters are forced by violence to death's slumber, what glories await them when they rise to see the resurrected Son. 

May this reality—by the power of our shared Holy Spirit—give them the comfort in crisis that our words and actions cannot.

Amen.

Will you chip in $100, $50, $25, or even $10 to help the NC Values Coalition continue to fight for your rights? You can donate by clicking here. 

Sincerely,
North Carolina Values Coalition